City of Stanfield Mayor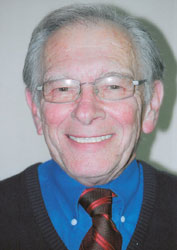 Mayor McCann was elected as the Stanfield Mayor in 1995. His professional accolades include the following:
Past President of the Oregon Association of Chiefs of Police
Past President and Board Chairman of the Oregon Special Districts Association
Past Board Chairman of the Stanfield Cemetery District
Past Board Chairman and Board Member of the West Umatilla County Vector Control District
Fire fighter for the Stanfield Fire District
Current Board Chairman of the Stanfield Fire District
Pinai County, AZ Sheriff's Department Sergeant for Narcotics
Retired Stanfield Chief of Police (1992)
Retired USN/USNR – 28 years (1996)
Deputy Sheriff of the Umatilla County Marine Patrol – 15 years
37 total years of law enforcement experience
Mayor McCann has been married to his wife Sharone for 39 years. He has 5 children, 11 grandchildren, and 4 great grandchildren. He is a commercial rated pilot. He has attended Central Arizona Community College, Blue Mountain Community College, Eastern Oregon University and the University of Maryland.